We love seeing how our dedicated partners use our apps. In January, we went out to a solar panel field maintained by First Solar to see how they use Scan to Spreadsheet to track maintenance on solar panels.
It was a great chance to see our app in action. It was rewarding to see our hard work on the app to make it possible to scan direct part markings with a cell phone.
Oh, and did we mention it was a balmy 30º? Of course, in Minnesota, that's a warm day!
About First Solar
First Solar develops and maintains photovoltaic (PV) power plants, ie solar panels, from the ground up and operates some of the world's largest grid-connected PV power plants.
We got a chance to see in action how they use our app, Scan to Spreadsheet, to scan a direct part marking on a solar panel, then log maintenance into their system.
The Process of Scanning Solar Panels
Mario showed us the process. It was interesting because we didn't realize the issues that might come up – turning up the screen brightness to see in sunlight, generally having sunshine bouncing in your face and on the camera as you're trying to scan the DPM. Luckily, there's a technique to get it done.
However, Mario showed us they were having issues with some cell phones reading the barcode off of the glass panels. After taking a closer look, it was a matter of the type of phone being used.
The better the camera the better the scan
Apple has a standardized camera on every phone, so you are likely to have a good experience with any of their cameras.
Other cell phones can be like the wildwest. The quality of cameras can vary from manufacturer to manufacturer. This definitely affects barcode scanning.
The trick? Look and see if it has a camera flashlight. If it doesn't, then it probably doesn't have a good camera and you're likely to not be able to scan detailed barcodes.
Why do you need a good camera for scanning DPMs?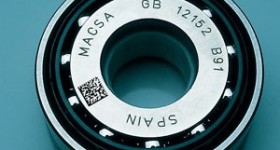 Not only are DPMs generally very small barcodes (as seen in this photo of a bearing), in this case, you're also battling the shine from the glass, as well as the sunshine. Without a good camera, there's not much luck gathering information about a part with the scan option.
And there you have it. A quick visit unveiled something we've learned and we're glad to share with everyone.
Just remember, we're happy to learn about your processes and see how our apps can help your business run smoother and save time! Contact us today.